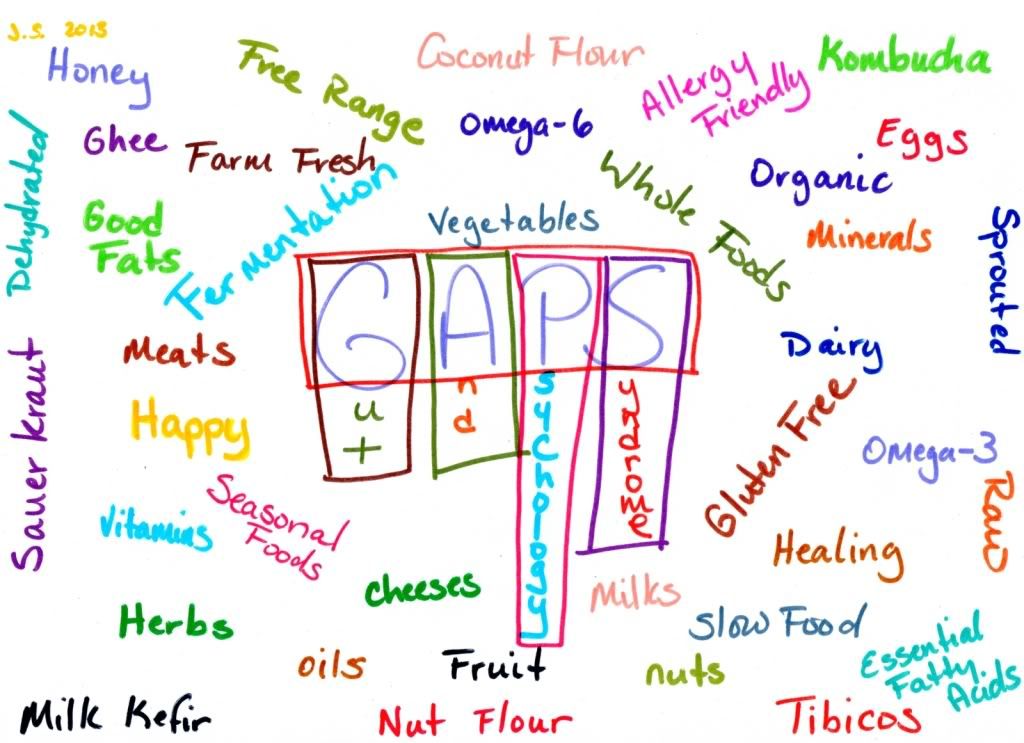 I made this image to reflect a few thoughts I am having about the GAPS Diet. Yes, I know my lines are not perfect. But, it is an effort I'm making to better understand where I see myself going with the GAPS diet. Think of it as a lovely addition to a
Vision Board
.
The purpose of the diet is to break the ongoing cycle caused by an overpopulation of harmful bacteria in the gut. When the body is able to absorb the proper nutrients from simple sugars and other carbohydrates that are easy to digest, the inflammation and other complications caused by many autoimmune diseases can be lessened. The goal is to rid the body of complex saccharides so the gut will be able to heal itself and enable further healing to occur.
The method of the diet is to keep the bacterial flora well balanced and to allow the gut to digest all of the food it is given, thereby starving out the harmful bacteria.
Certain foods, such as commercial syrups and sugars, starchy vegetables, and dairy products are not allowed while on the diet. Other foods, such as fruits, greens, animal protein, and nuts, are allowed.
Source
This is about the Paleo Diet, but also applies to GAPS:
Nuts: Say hello to your new best friend. Nuts are the best on-the-go protein source for any follower of Paleo. Make sure you buy them raw without any added seasonings. Nut butter can be safe on this diet as long as you watch the added oils that may be added. Almond and sunflower butter are pretty safe bets.
Meats and fish: This duo should be the main attraction on your meal plate. When buying them, check for added ingredients. Your protein should be free of any artificial flavors and seasonings, which is hard to tell in the deli section. If there isn't a visible label, then just make sure to ask for full disclosure on your poultry, cold cuts, and other meats. Canned fish is still on the menu for the Paleo diet and can be a quick time-saver to your salads.
Produce: Lucky for Paleo eaters, this section is pretty stress-free. Almost anything in the produce section is on limits for the caveman diet, just steer clear of anything that could be processed or pasteurized, like bottled fruit or vegetable juice. Kombucha, which is a naturally fermented black tea, is a good drink to buy in place of your Odwalla.
Frozen veggies: These can be huge time-savers when you're in a rush. Keep a selection of veggies like green beans, corn, and spinach in your freezer to quickly heat up next time you're crunched for time.
Oil: Coconut and olive oils are the best types of oil for even non-Paleo eaters to keep on hand. Olive oil is great for homemade salad dressings, while coconut is excellent to cook with. Keep one of each for variety.
Flavorings: Natural herbs, vinegar, unsweetened applesauce, and certain broths from concentrate can definitely liven up your food a bit. Make sure you recognize all the ingredients on the foods list to watch for added sugars and colorings.
Source
Some of this does not apply to GAPS, but keep it in mind for when you eventually will return to a more normalized diet. Remember healthy variation, healthy fats, meats, vegetables, oils, fruits and so on.
Here are a few helpful FAQ-type links about the GAPS diet. They will help in addition to the GAPS-y blog links to your right. Keep in mind though, not all the links to your right are GAPS friendly. They may simply have GAPS OK recipes on there from time to time and I listed them as an encouragement that there are things out there in mainstream recipe sites as well as there may be a day you can return to that kind of diet, if you want to.
GAPS v. Paleo v. Primal guide
Side by Side of diets. (some errors, but mostly ok)
Body Ecology Diet / GAPS Diet Differences
The Bristol Stool Chart
(Poop guide - seriously. If you're gonna talk diets - poop will come up..)
GAPS Diet Myths
The Five Most Common GAPS Diet Mistakes
The Difference Between SCD and GAPS- Guest Post by Empowered Sustenance
GAPS diet: Surviving the Intro Diet and Die-off
Guide to Underwhelm on GAPS
(main site:
Gaps Guide
)
Can I do GAPS if I'm Breastfeeding?
The Gut-Brain Connection & Autism, ADD, Allergies, and Other Diseases
GAPS Intro: For Gut Healing and Sealing
Intro – What To Expect
My Child Needs GAPS But Won't Even Touch That Kind of Food! (how to get kids with sensory issues on the GAPS Diet)
Full Gaps Diet Information
12 tips and recipes for stage 1 of the GAPS intro diet
Soaking Grains: Top 5 Reader Questions Answered
Below are some books that have been recommended to me to read about the GAPS diet. These usually do not go on sale, so they are full price. You might can find them used, or possibly at your local public library. I'm kind of SOL in my little village, there aren't many English books at our public library, and when it comes to food related books and the fact I have contact allergies, I would rather just own my own books anyhow.
It Starts with Food: Discover the Whole30 and Change Your Life in Unexpected Ways
(Paleo, but most are SCD/GAPS friendly recipes)
The Whole 30 Diet
(Paleo, but most are SCD/GAPS friendly recipes)
Real Food 101
What Can I Eat Now? 30 Days of recipes and tips for the GAPS™Intro Diet
Gut and Psychology Syndrome: Natural Treatment for Autism, Dyspraxia, A.D.D., Dyslexia, A.D.H.D., Depression, Schizophrenia
Internal Bliss - GAPS Cookbook (Recipes designed for those following the Gut and Psychology Syndrome Diet)
Against the Grain: Delicious Recipes for the Whole Food and Grain-Free Diet (Modern Alternative Mama: In the Kitchen)
Gaps Guide
Breaking the Vicious Cycle: Intestinal Health Through Diet
Recipes for the Specific Carbohydrate Diet: The Grain-Free, Lactose-Free, Sugar-Free Solution to IBD, Celiac Disease, Autism, Cystic Fibrosis, and Other Health Conditions (Healthy Living Cookbooks)
Eat Well, Feel Well: More Than 150 Delicious Specific Carbohydrate Diet(TM)-Compliant Recipes
Paleo books
(there are more than these, but these are what was recommended to me)
Eat Like a Dinosaur: Recipe & Guidebook for Gluten-free Kids
The Paleo Diet Cookbook: More than 150

recipes

for Paleo Breakfasts, Lunches, Dinners, Snacks, and Beverages
Practical Paleo: A Customized Approach to Health and a Whole-Foods Lifestyle
Well Fed: Paleo

Recipes

for People Who Love to Eat
Paleo Comfort Foods: Homestyle Cooking for a Gluten-Free Kitchen
Make it Paleo: Over 200 Grain Free

Recipes

For Any Occasion
Paleo Slow Cooking: Gluten Free

Recipes

Made Simple
It Starts with Food: Discover the Whole30 and Change Your Life in Unexpected Ways
The Primal Blueprint Cookbook: Primal, Low Carb, Paleo, Grain-Free, Dairy-Free and Gluten-Free (Primal Blueprint Series)
Paleoista: Gain Energy, Get Lean, and Feel Fabulous with the Diet You Were Born to Eat
Perfect Health Diet: Regain Health and Lose Weight by Eating the Way You Were Meant to Eat
Below are the books I currently have on my Kindle, because they have GAPS-friendly recipes
, and I happened to find them for free or greatly discounted (2€ or less) at the time I got them. Please do keep in mind that Paleo / Primal recipes might need a little tweaking to make it GAPS compliant.
Eating Clean in a Dirty World: An easy to follow guide to cleaning up your diet for life
Genetically Modified Foods vs. Sustainability
Plan It, Don't Panic: Everything You Need to Successfully Create and Use a Meal Plan
Making Herbal Remedies (Herbology At Home)
The Power of Herbs
Herbology 101 A short Course in Growing and Using Herbs
Paleo for Beginners: Essentials to Get Started
Paleolithic Slow Cooker Soups & Stews: Healthy Family Gluten-Free Recipes
The Paleo Recipes Bible: A Family Paleo Diet Breakfast, Lunch and Dinner Recipes Cookbook for Weight Loss and Curing Disease
Salad: 17 Indispensable Recipes for the Paleo, Primal and Gluten-Free Inclined
17 Delectable Dessert Recipes for the Paleo, Primal, and Gluten-Free Inclined
30 Days of Amazing Paleolithic Dinners: Easy Gluten Free Recipes
30 Days Of Amazing Paleolithic Lunches: Easy Gluten Free Recipes
30 Days Of Amazing Paleolithic Breakfasts: Easy Gluten Free Recipes
Cavelady Cooking: 50 Fun Recipes for Paleo, Low-Carb and Gluten-Free Diets
The Amazing Paleolithic Cookbook: Over 120 Gluten Free Recipes To Satisfy Your Primal Cravings
Paleo Cookbook. 17 Day Diet. Paleo Diet Cookbook Recipes. Full Menus, for a 17 day diet Cycle.
The Vegetarian Paleo Recipe Cookbook: 47 All Natural Gluten-Free Meals and Desserts
Paleo Beginner Quick Start: Essential Guide to Get Started Fast on a Gluten-Free Diet
Paleo Diet for Her: Paleo diet basics, Paleo diet recipes, Paleo diet Breakfasts, Paleo Lunches and Dinners - Lose weight and eat healthy with the Paleo Diet
The Paleo Recipe Cookbook: 101 All Natural Gluten-Free Meals and Desserts
Easy Practical Paleo: An Easy Paleo Diet Solution & Blueprint Beginners Guide
Coconut Flour Recipes ( recipes using coconut flour, used for Gluten Free, Celiac and Paleo Diets
Easy Kiwi Recipes: Nature's Best Kept Secret For Disease Prevention & Weight Loss
Best of Grain Free Meal Plans, Volume 1: A cook book for those following grain free diets
29 Gluten Free Soup Recipes and Stew Recipes - Delicious Gluten Free Soup and Stew Recipes To Try
Vegan Soup Cookbook
10 Awesome Vegan Thai Curry Recipes
31 Delicious and Nutritious Vegetarian Appetizer Recipes
Healthy Vegetarian Collection: More Than 100 Healthy Recipes for a Vegetarian Diet
100 Healthy Raw Snacks And Treats
30 Moan Inducing Raw Vegan Lunch Recipes
50 Healthy Raw Desserts Volume One
50 Healthy Raw Deserts Volume Two
30 Juices in 30 Days: Juicing Recipes for Health and Beauty
Smoothie Recipes For Weight Loss: The Daily Diet, Cleanse & Green Smoothie Detox Book
20 Super Easy Smoothie Recipes for Kids!
I Love Green Smoothies - 50 Recipes To Get You Started Drinking Your Way to a Sexy, Slim, Youthful You!
Raw Food Diet: A Quick Simple Guide to Help You Lose Weight, Look Younger and Boost Health More Effectively
How to Make Probiotic Drinks for a Raw Food Diet: Kefir, Kombucha, Ginger Beer, and Naturally Fermented Ciders, Sodas, and Smoothies